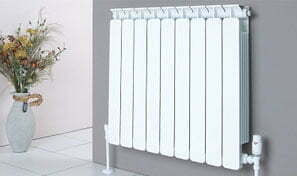 EASIER INSTALLATION
The first benefit that comes from using FARAL aluminium radiators is certainly the ease of installation for installers. Firstly, because aluminium is a lightweight material, and therefore more manageable it is usually a one person lift. Secondly, FARAL radiators can be supplied as fully assembled radiators or be made ready to be assembled on site to the desired length if the radiator length is excessive or access restricted.
PEACE OF MIND FOR THE CUSTOMER
All FARAL products are made in Italy and are CE certified which guarantees quality. All FARAL radiators have been laboratory tested and the efficiency, reliability and output have all been independently verified. The rigorous testing procedure is then under pinned by 50 years of expertise with FARAL being the first manufacturer of aluminium radiators in the world.
MORE ENERGY SAVINGS
The superb design and thermal conductivity of FARAL aluminium radiators will provide you with low energy consumption which not only provides a benefit to the environment but also provides cost savings on energy bills. Unlike a steel radiator or an underfloor floor heating system, the radiator heats up and cools down very quickly closely controlling the desired temperature for each room.
MANAGEMENT OF INDOOR COMFORT
The management of the ideal temperature for a room is always a little subjective and can be related to the different times of the day. In this sense FARAL aluminium radiators provide maximum comfort through providing a rapid response to heating up and cooling down so each person can feel the immediate benefit when they adjust the radiator valve to achieve the desired temperature in their room.
OPERATION WITH WATER AT LOW TEMPERATURES
FARAL aluminium radiators are the choice of many companies that specialise in renewable energy as the performance of FARAL radiators complies with the European directive in terms of building insulation which requires close control of the demand for heat. FARAL radiators can be installed in all gas or oil central heating systems or with wood or pellet boilers as well as solar and heat pumps that work at very low water temperatures.