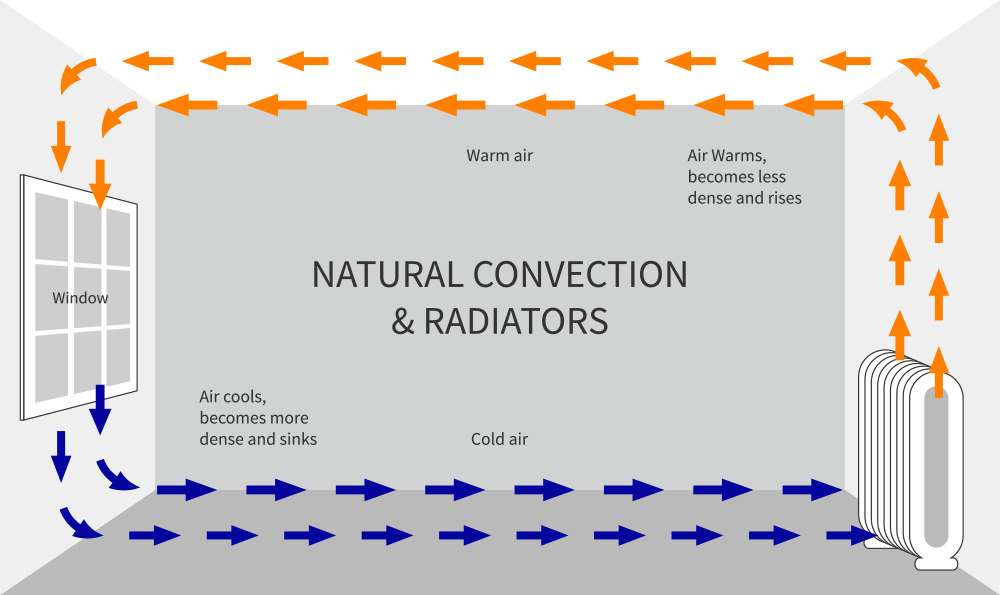 Even though Cast Iron Radiators take a little longer to heat up than the basic white steel panel radiators they are a far more efficient way of maintaining heat in a room through natural convection (see diagram below).
Not only do Cast Iron Radiators look better but they also retain and transfer their heat for longer into the room therefore not requiring the boiler to keep firing regularly as long as the temperature in the room is being maintained.
The less time the boiler is firing is great for keeping the cost of heating your room to a minimum and the energy and emissions from your boiler saved that would usually be sent into the atmosphere is great for the environment.
The heat transfer of Cast Iron Radiators is such that the amount of heat that is transmitted into a room is always a surprise and delivered with style.
HOW DOES A CAST IRON RADIATOR WORK
Cast Iron Radiators work on the same principle as a Steel or an Aluminium radiator.
The radiator casting is made in such a way that it allows hot water from the central heating boiler to enter the radiator to flow up, down, across and out the other side back to the boiler.
While it is flowing through the radiator the Cast Iron will heat up which in turn will heat up the surrounding air which heats the room.
The heating up process of a cast iron radiator produces Radiant heat and Convective heat.
WHAT IS CONVECTIVE HEAT
Convective heat transfer, is the transfer of heat from one place to another by the movement of fluids or gas.
WHAT IS RADIANT HEAT
Radiant heat is most commonly experienced through direct sunshine.
Radiant heat transfer is the delivery of heat directly from a hot surface to a person and objects in a room via infrared radiation. Radiant heat is the direct heat that you feel when stood near a hot stovetop element or radiator from across the room.