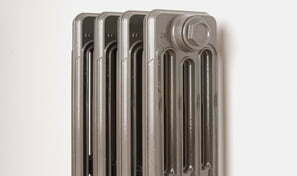 Q What are the advantages of using Cast Iron radiators?
A The advantage of Cast Iron radiators is that they retain their heat and therefore emit heat for longer periods into your room unlike a modern pressed steel radiator, Cast Iron radiators are also aesthetically more pleasing to look at than a steel panel radiator.
Q I have standard pressed steel radiators, can I replace them with Cast Iron using the existing pipe work?
A Yes, Cast Iron radiators can be fitted into the same pipework as the existing plain pressed steel radiators.
Q Do I need to change my boiler if I install Cast Iron radiators?
A No, if you are simply converting your existing radiators to cast iron radiators and your boiler is in good working order your boiler will not require changing.
Q How do I make sure each radiator is the correct heat output for my room?
A AEL have an easy to use heat loss calculator on the website www.aelheating.com which will help you work out the btu's or Watts for each room..
Q I would like my plumber to sort this out for me, can he ring AEL on my behalf?
A Yes, this is part of the service AEL provide.
Q Can I fit thermostatic valves to my cast iron radiators?
A Yes, AEL have a large selection of traditional and contemporary valves to suit your radiator.
Q Do I need to reinforce the floor to accommodate the radiators?
A No, they will safely sit on standard floorboards without a problem.
Q Will they need to be secured to the wall?
A Yes, all floor mounted radiators should be secured to the wall in case they get pulled over, AEL supply wall ties with all our radiators.
Q What guarantee do I receive with the radiators?
A AEL give a 5-year warranty on all our radiators.
Q After I place the order how long does it take to deliver my radiators?
A AEL will confirm and stick to a mutually convenient delivery date when the order is
placed, AEL usually deliver in 5 working days.
Q How will my radiators arrive?
A AEL arrange the delivery using couriers that specialise in heavy goods. Your radiators will be secured to a pallet and will be kerbside delivered, meaning that the driver will deliver the pallet to ground level as close to your property as possible.