There can be some very costly structural and re-tiling costs that need to be accepted by the contractor if sufficient care isn't taken when emptying or filling a swimming pool.
If a pool needs to be emptied for essential maintenance and cracks appear, wall tiles 'drop off' or floor tiles 'lift' it is usually the contractor who undertook the responsibility to empty and refill the pool that is at fault because they either did not have or follow the correct procedure when carrying out the work.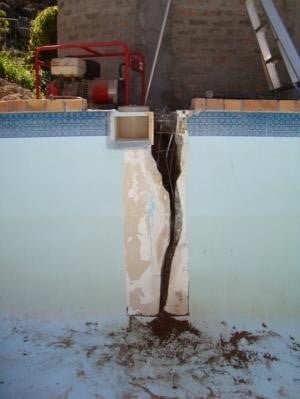 The cost of restoration works can be considerable so for these reasons AEL has put some essential tips and advice together to help you avoid such costly problems, we recommend that you:
• Plan the whole project around time and temperature.
• Allow sufficient time for every aspect of the operation as cutting corners could be costly.
• Monitor and record every stage of the process.
• Do not exceed the maximum or minimum time intervals or temperature limits provided by structural engineers and suppliers.
If a pool is emptied too quickly, the physical change in weight and temperature may cause structural or tiling failure. Swimming pools, are designed to operate filled with water at a temperature of 27 to 29+°C.
Removing Water from a Swimming Pool Too Quickly
Removing the water from the pool too quickly will suddenly subject the pool to pressures from the surrounding structural construction materials that allowed for weight and from the time of its initial fill. Removing the water too quickly may result in a high to low back-pressure on the tiling as the absorbed water seeks to flow back to the empty shell of the pool.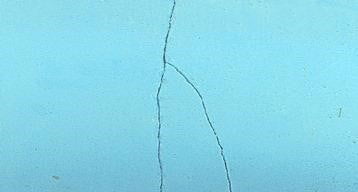 Heating a Swimming Pool too Quickly
If a pool is heated too quickly, the difference between the temperature of the water and the pool shell can result in thermal shock causing structural and tiling failure to occur. Thermal shock occurs when a thermal gradient causes different parts of the pools structure to expand at different times causing stresses and strains on the structure. When these stresses eventually overcome the strength of the structural material they may well cause cracks to appear.
Filling or Emptying a Swimming Pool Too Quickly
The same structural and tiling failure can be caused by filling or emptying a pool too quickly. Rapid filling or emptying of a heavy mass of water can cause a structure to crack and fail due to the sudden stresses.
The maximum rate of filling or emptying pools should be controlled and monitored in line with the structural engineer's advice but as a guide the water level should rise or fall approx.700mm every 24 hours with the water input or extraction evenly distributed throughout this period.
Before emptying, allow the pool wall and pool water to cool naturally as close as possible to ambient temperature. It will also lessen the risk if the pool is only emptied at times when there is unlikely to be a frost.
Prior to refilling a pool, try to lower the temperature of the pool shell as close to the temperature of the incoming mains water. The pool water temperature should then be raised at a maximum rate of 0.25° C/hour in line with the structural engineers advice.
Water Quality Standards
Not too long ago it was normal practice to just routinely replace the pool water on an annual basis but since good water quality standards were introduced a water quality procedure is normal practice when maintaining a pool. Thorough back washing at a minimum rate of once a week and fresh water dilution can be combined to provide the recommended level of 30 litres of fresh water per bather, per day. Fresh water dilution limits the building up of the total dissolved solids (TDS) and organic chloramines that cannot be removed by normal filtration and disinfection means the need for an annual complete water replacement programme is no longer required.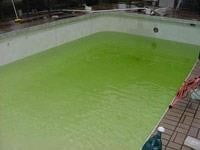 Minor Pool Maintenance Without Emptying a Pool
It is possible that minor maintenance on the pool plant can be carried out without emptying a pool by installing isolation valves at the design stage by specialist contractors who are able to carry out underwater remedial work such as the tiling.