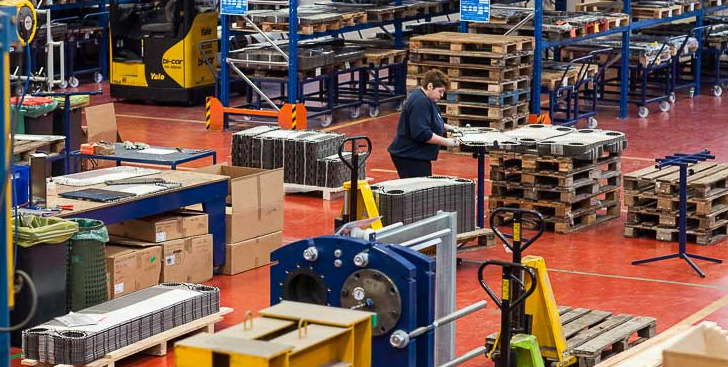 AEL have been designing Gasketed Plate Heat Exchangers for many industrial and commercial applications for over 50 years. AEL Gasketed Plate Heat Exchangers are all manufactured in Europe and are promptly built and tested in our UK factory from stock.
AEL Plate Heat Exchangers are used to either heat up or cool down a fluid. When heating up a fluid such as water from a Primary heat source such as a boiler or waste water heat recovery system the heat energy will transfer over from the Primary side to the cold Secondary side that requires heating making sure that the two circuits are kept separate.
Plate heat exchangers are often used as system breaks in HVAC circuits in old systems offering protection to the boiler or fitted into new systems that prolong the life of a boiler by many years. Plate heat exchangers tend to be compact in size and fit nicely between boilers and other equipment such as pump sets and pressurization units.
The main advantages of using an AEL plate heat exchanger are:
Compact design
High thermal efficiency
Easy to service
The duty / performance can be altered by decreasing or increasing the number of plates required
Suitable for Commercial and Industrial applications
Suitable for use with water, steam and many other mediums
No storage and instantaneous heat up which eliminates the environment that breeds legionella bacteria
Typical Commercial and Industrial applications AEL plate heat exchangers have been used:
Boiler circuit system breaks
Swimming pool system break from Central Heating circuit
Renewable energy installations such as Heat pumps
Food & Dairy process for milk pasteurising, milk cooling and general hygienic cleaning purposes
Heating and cooling of liquids in industrial process plants
Pharmaceutical Industry providing hygienic water heating and cooling
Heating and cooling of chemicals
Heating, Ventilating and Air Conditioning
Marine Environment for engine cooling, oil cooling, intercoolers and general cleaning purposes
Brewing process plant for cooling and conditioning fluids