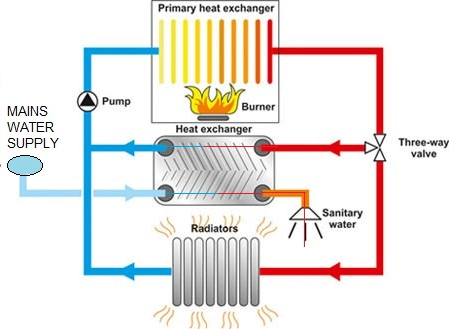 Combi boilers are designed to provide both instantaneous Domestic Hot Water for your taps and showers as well as hot water for the central heating system.
CENTRAL HEATING:
If the ambient temperature in the building drops below the pre-set level on the room thermostat it will send a signal to the boiler calling for hot water to be sent to the radiators in the central heating system. The opposite happens when the room thermostat detects that the required room temperature has been reached, it will tell the boiler to stop providing central heating water.
DOMESTIC HOT WATER (DHW):
When a hot water tap or shower is turned on the boiler will sense a flow across a sensor and will then heat the domestic hot water through a heat exchanger inside the boiler to provide hot water to the relevant tap.
COMBI BOILER CONTROL:
The control valves inside a combi boiler will operate by either letting the water flow through the central heating system or by diverting the water inside the boiler to heat up the domestic hot water required to the tap or shower. NOTE: Both the DHW and central heating will not operate at the same time as the DHW will take temporary priority over the central heating when required.
IMPORTANT POINTS TO CONSIDER:
Each combi boiler manufacturer will state a minimum mains water pressure in order to guarantee a good Domestic Hot Water flow rate; low mains water pressure means hot water will merely trickle out of your taps or shower. If your mains water pressure is too low or you have more than one bathroom, a conventional boiler might be a better choice. The KW heat output must be checked and be sufficient for your premises prior to installation, remember that combi boilers have a heat output for Domestic Hot Water and a heat output for Central Heating. A common mistake is to size the boiler just on the central heating KW demand. The instantaneous domestic hot water production requires a high KW input so it can sometimes be the DHW demand that determines the KW output of the combi boiler you choose rather than the KW required to heat the water going to the central heating radiator system.