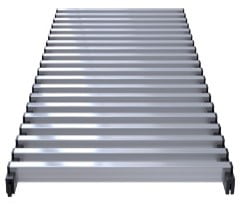 Trench heaters provide heat through natural convection or fan assisted heating which is becoming increasingly popular in small contemporary housing design as well as larger office blocks and showrooms where wall space is at a premium and floor to ceiling windows are a common feature in housing design. Trench heating provides an even distribution of heat along the perimeter of any room and prevents draughts, cold spots and of course condensation.
Trench Heating provides a very inconspicuous finish with only the Wooden or Aluminium grille showing level with the finished flooring.

How does it work?
The Trench heating system comprises of an insulated steel boxed casing which is put into a trench or hole in the floor. The steel box houses an aluminium finned copper tube-heating element and hot water passes through the element, cold air naturally flows into the trench through the air inlet grille.
The air is then warmed up as it rises past the element through natural convection and out into the room through the outlet grille.
Fan assisted Trench heating is now available which works on the same principle only that the air is drawn into the trench and pushed out into the room by an integral fan. The introduction of fan assisted trench heating was developed to provide the more spacious interiors that may have many floor to ceiling windows with an extra boost of extra heat when required.
Different types of finishes available:
Trench heating can also be incorporated into low temperature renewable energy heating systems such as solar and ground source heat pumps.