AEL have supplied and designed Plate Heat Exchangers for numerous Industrial and Commercial applications since 1972 and with quality in mind every model is manufactured in Europe and then assembled and hydraulically tested in our UK factory from stock for a prompt delivery to site ready for installation.
AEL supply Alfa Laval AHRI approved Plate Heat Exchangers, AHRI is a globally recognized and industry respected third party certification program that allows you the customer to differentiate between suppliers and provides the assurance and peace of mind that you are purchasing a plate heat exchanger of the highest quality.
When specifying  Engineers and other decision makers purchase an Alfa Laval Plate Heat Exchanger that bears the AHRI Certified® mark, it will provide them with the added assurance that the equipment that they have purchased is manufactured using materials of the highest quality and that it will perform accurately and consistently in line with the design provided by AEL at quotation stage.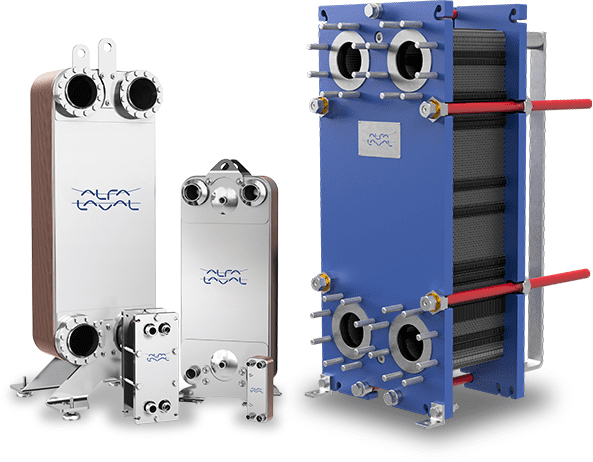 AEL Plate Heat Exchangers are used to either heat up or cool down many different types of fluid. When heating up a fluid such as water the Primary heat source from a boiler or waste water heat recovery system will transfer the heat energy from the Primary side to the cold Secondary side that requires heating instantaneously to a set point temperature making sure that the two circuits are kept separate.
AEL Plate heat exchangers are often used as system breaks in HVAC circuits in old systems offering protection to the boiler or fitted into new systems that prolong the life of a boiler by many years. Plate heat exchangers tend to be compact in size and fit nicely between boilers and other equipment such as pump sets and pressurization units.
The main advantages of using an AEL plate heat exchanger are:
Compact design
High thermal efficiency
Easy to service.
The duty / performance can be altered by decreasing or increasing the number of plates required.
Suitable for Commercial and Industrial applications
Suitable for use with water, steam and many other mediums.
No storage and instantaneous heat up which eliminates the environment that breeds legionella bacteria.
No standing heat losses as the water content is minimal and no storage is required.
Typical Commercial and Industrial applications where AEL plate heat exchangers have been used:
Boiler circuit system breaks
Swimming pool system break from Central Heating circuit.
Renewable energy installations such as Heat pumps
Food & Dairy process for milk pasteurising, milk cooling and general hygienic cleaning purposes.
Heating and cooling of liquids in industrial process plants.
Pharmaceutical Industry providing hygienic water heating and cooling
Heating and cooling of chemicals.
Heating, Ventilating and Air Conditioning
Marine Environment for engine cooling, oil cooling, intercoolers and general cleaning purposes.
Brewing process plant for cooling and conditioning fluids.