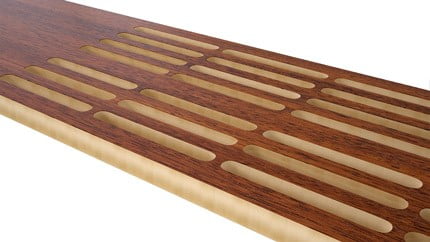 Trench Heating floor grilles are usually run around the perimeter of a room and must be perfectly installed and match the look of your room as they are the final finish to the installation of your new heating system.
The Trench Heating heat emitters are sunk into trenches and finished with a suitable sometimes decorative floor grill, which is finished flush with the floor covering.
The Heat from the Trench heaters are then circulated around the room with the help of an integral fan or by natural convection as it would be from a radiator.
Natural Wood Grills
Standard: Spacing's (sleeves) between the rungs are usually made of black PVC.
Option: Spacing or sleeves are also available in various RAL Colours: Grey, Beige, Light Brown, Dark Brown and a Beech Wooden spacing
Most grilles are only available in a rolled-up version and the maximum length of one grille section is usually around 6 metres.
Oak Finishes
Grille Corner – Herringbone
Roll Up Aluminium GrilleThe grille is made of aluminium with the closed profile.
Options: Natural aluminium, Anodized Aluminium
Standard Spacing's or sleeves between rungs as standard are usually made of black PVC.
Colour Options: Grey, Beige, Light brown, dark brown.
Roll Up Aluminium Grille
with Closed Profile
Modular Aluminium Grilles
Options: Natural Aluminium, Anodized Aluminium
SPACINGS: The Rung Fasteners are usually made of black plastic.
The length of run is usually 440 mm.
Linear Aluminium Grill
Options: Natural or Anodized aluminium with spacings and sleeves made of painted aluminium in RAL 2005 black
Corner Herringbone Grill
Options: Natural Aluminium  spacing's or sleeves are made of aluminium painted black.
Anodized Aluminium spacing's or sleeves are made of aluminium painted black.
Aluminium painted in various RAL colours
Linear Steel Grilles
This type of grille is available only available as a rigid version.
The maximum length of one section of the grille is usually 2 meters.
Any Grille lengths longer than 2 meters are made up of several elements of equal rigid grill lengths.
Linear Stainless Steel Grilles